Hey everyone! I hope you had a great weekend. This past Saturday, I ran the Chicago Lakefront 50/50. I ran the 50K and it was a tough one for sure.
Let's get started on what went down.
The day before the race, Chicago was under a winter weather advisory. Most of us woke up to snow and high winds. With the winds gusting at 70 mph, part of Lake Shore Drive was under water in the city. I was watching this video and thinking about how this was where I was going to run a 50K the next morning.

The next morning, I picked up Teri and Penny and headed to the city. It was REALLY cold and we knew there was some wind, but we had no idea what we were in store for. As we drove into the city and turned onto Lake shore Drive, I couldn't believe the waves we were seeing. It became very clear, very fast that we were going to be running in very tough conditions.
We kind of laughed it off and acted like we were tough, but we hid in the car until the very last minute.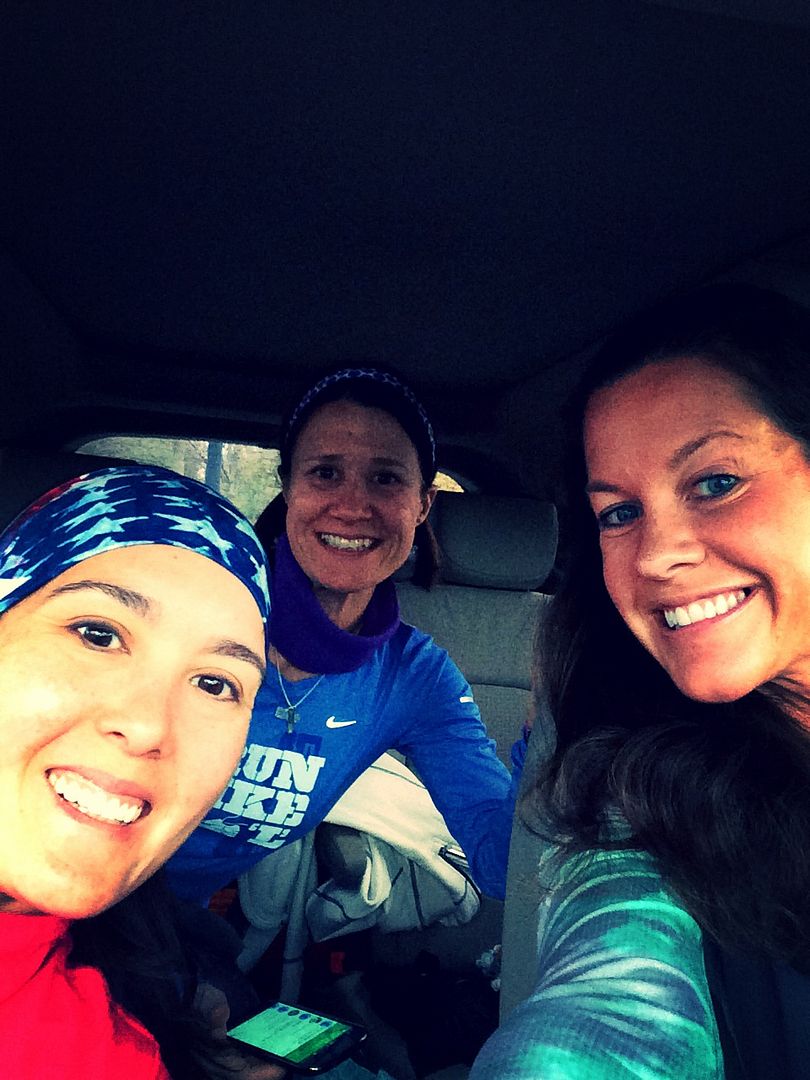 My plan was to wear 2 shirts and a vest, but as soon as I stepped out of the car, I realized how cold it really was. I threw on a hooded sweatshirt OVER my two shirts and had the hood up over my hat the entire time.
I need to backtrack just a bit here. Earlier in week, my back and neck were giving me a lot of pain and when I went in to see my Chiropractor, he confirmed that my back was completely locked up. I had no mobility in my back and shoulders and my neck was doing all the work. He worked on it Thursday and Friday and reluctantly gave me the go-ahead to try and run. Warning me, that I will probably end up in even more pain. I knew I needed to stay warm to avoid tensing up even more in the shoulders and neck.
As we were waiting to start, Penny met up with another friend, Maggie from Facebook. She was so sweet and encouraging and was running her first ultra distance.


Soon we were on our way and that's when things got real. We headed north which was the same direction the wind was coming from at 25 mph. There was really nothing to do, but put your head down and push through it.


With each wind gust, Lake Michigan sprayed us in the face.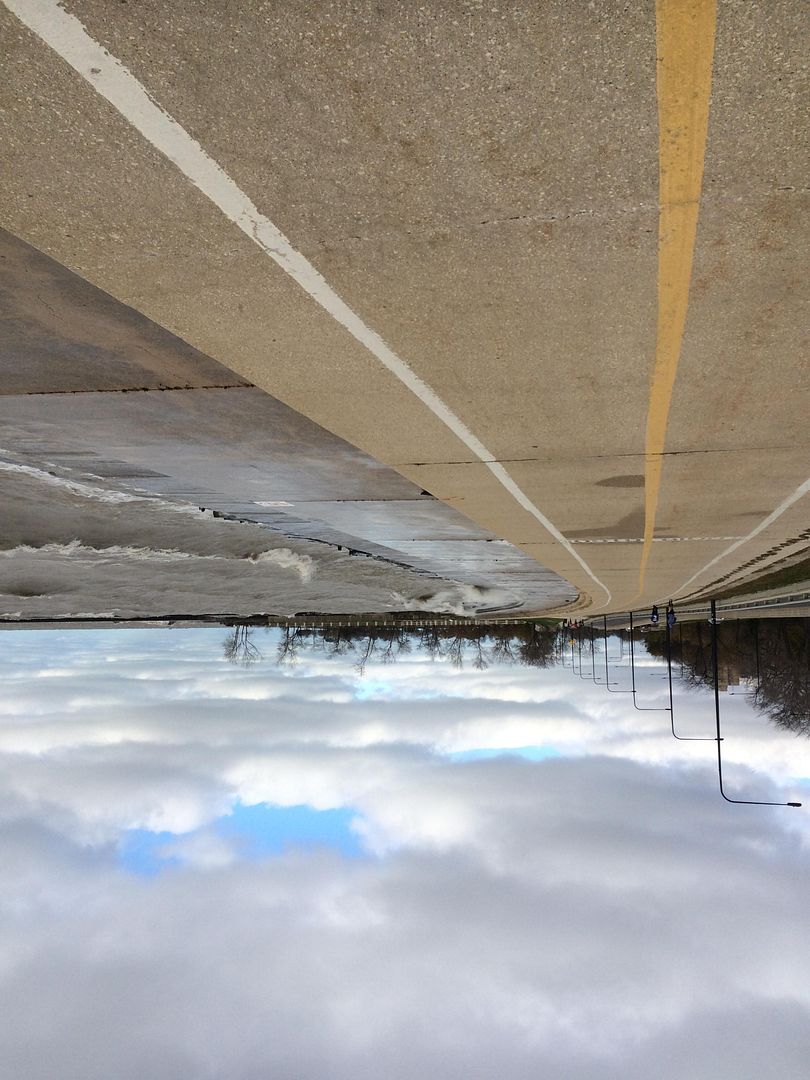 I'm not going to pretend it was fun, because for me it wasn't. I was cold, wet and my back was starting to hurt by mile 3. However, having Penny, Teri and Maggie running along side did bring some fun moments. We laughed, encouraged other runners and talked about how this race had many surprises for us. Including this:


Certain points of the path were closed because the waves from the day before, destroyed the path.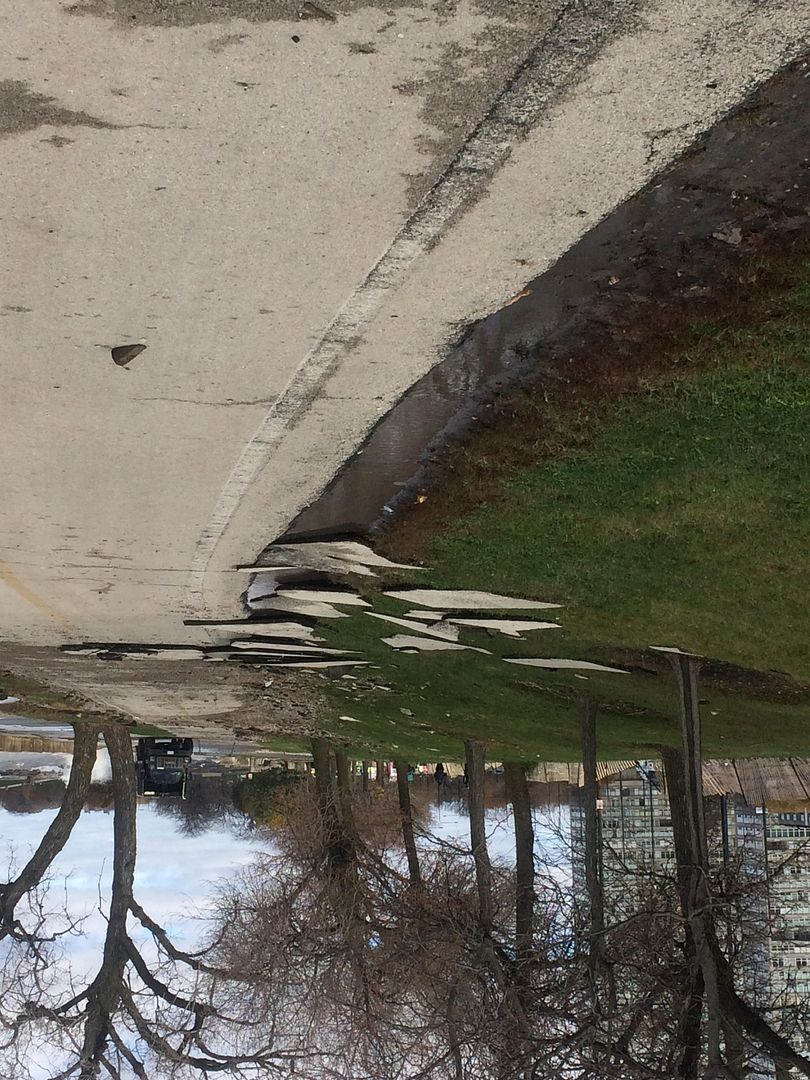 …and again here.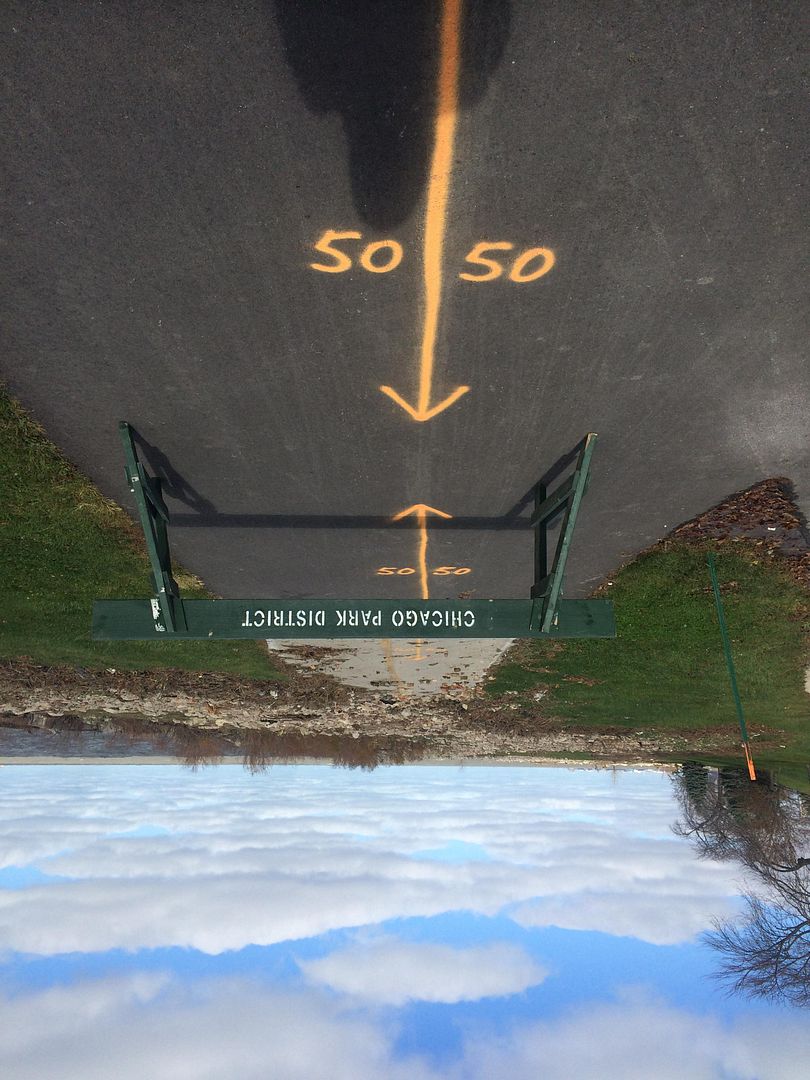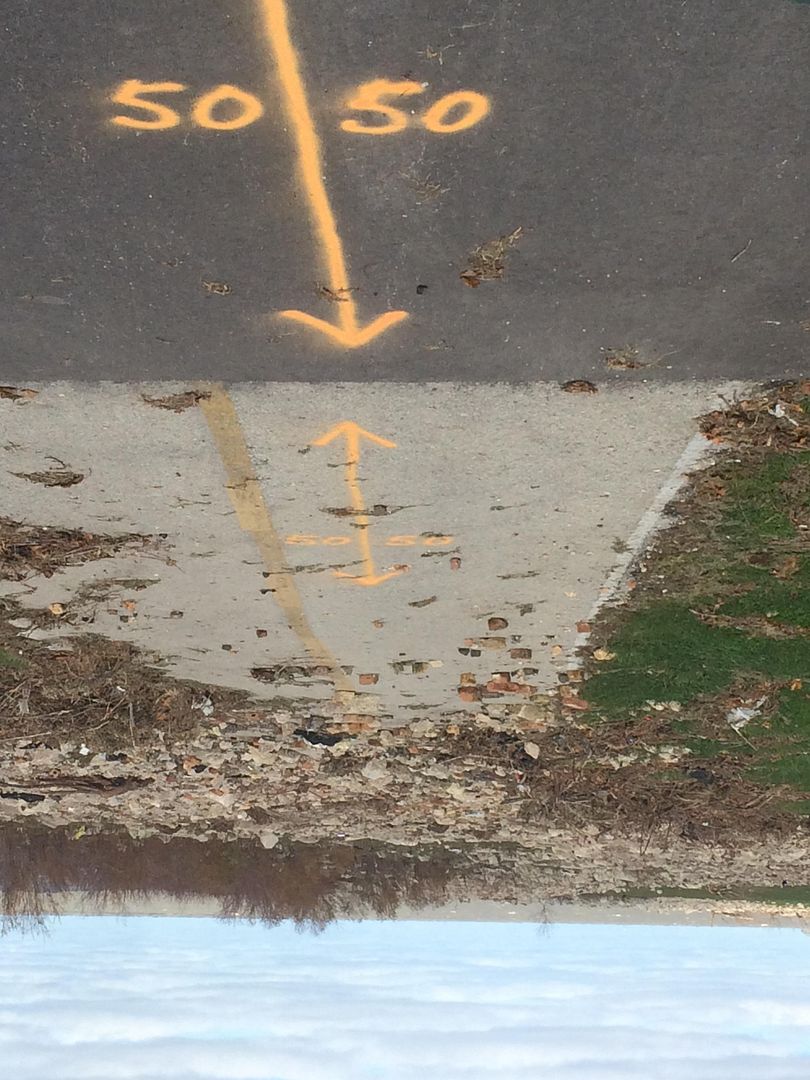 Soon we hit the first turn around and it felt like we were making a little progress.


We stopped and fueled and started back again. Starting and stopping just irritated my back more and I tried to listen to my music and not think about it. We repeated this process again when we got back to the start. When we started to head north into the wind again, I was started to wonder how much more my back could take. The pain was started to go into my shoulder and down my right arm. The only way I could be somewhat comfortable was to keep my right arm down at my side and only use my left.
When we hit the turn around again at mile 15.5, I was hurting…a lot. I knew going into the race I might not be able to finish, but I wasn't ready to accept that yet. The ladies knew I was hurting and offered me any support I needed. They were amazing. I tried to just focus on one foot in front of the other and tried to stay positive.
As we were coming into the next turn around at mile 20.7, I made the decision that I would finish no matter how long it took. I was in so much pain, but running was no longer an option. My only option was to walk the final 10+ miles. I wasn't sure how long it would take me, but I bundled up as much as I could as headed back into the wind. I was so miserable. I'm pretty sure the only thing running through my head was one word over and over again…"f*ck!" By now I was having searing pain in my right foot as well (as of today the pain and bruising is still there). All I really remember was trying to speed walk and I couldn't even do that fast. I final hit that final turn around and knew I only had just 5+ miles to go. I would try to run at times, but that just caused my foot and back to hurt more. I knew I was really hurt. Everything just felt broken. It was about mile 29 when the sun came out and all of a sudden there was this pretty woman waving at me. I honestly thought I was hallucinating for a moment. I couldn't believe what I was seeing! My friend, Michelle was standing there waiting to run me in!! Seeing her changed everything in me instantly. I hadn't seen Michelle in so long and was so sad when she had to pull out of Chicago due to injury. Michelle and I have run many races together including Ragnar Chicago. She knew what I needed those last few miles and helped get me to the finish line.
I slowly ran across the finish line in 6:07. I was so happy to be done, but too exhausted and in too much pain to care. It was a really tough race for me. I knew I was going to struggle with my back, but did not anticipate what I went through.
However, having Teri, Penny, Maggie and Michelle there made it worth it. They are all incredibly strong women. Their support and love is what got me to the finish line. I am so grateful for each of them. They all ran a strong race.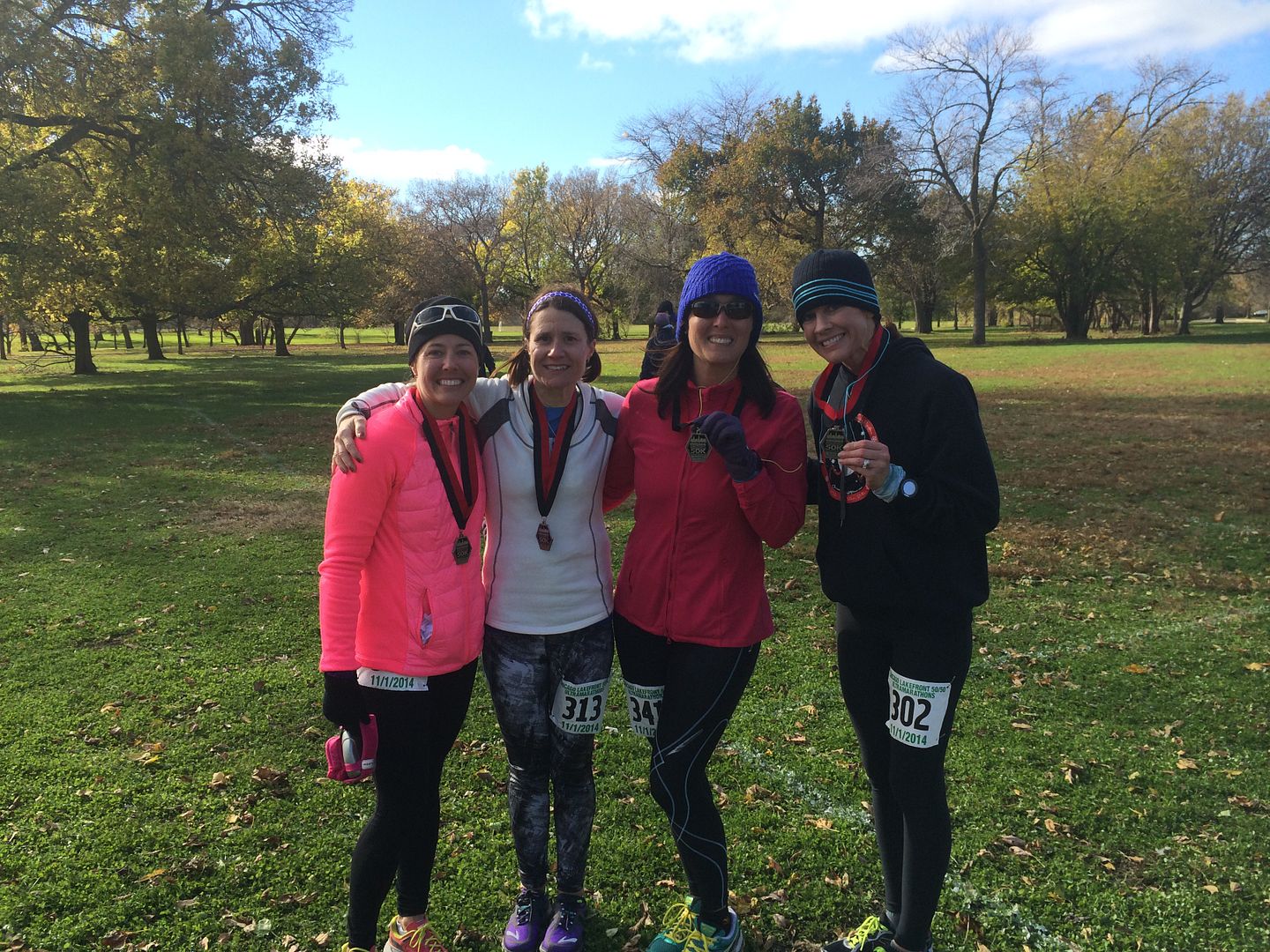 Oh, and they served amazing red beans and rice at the finish line.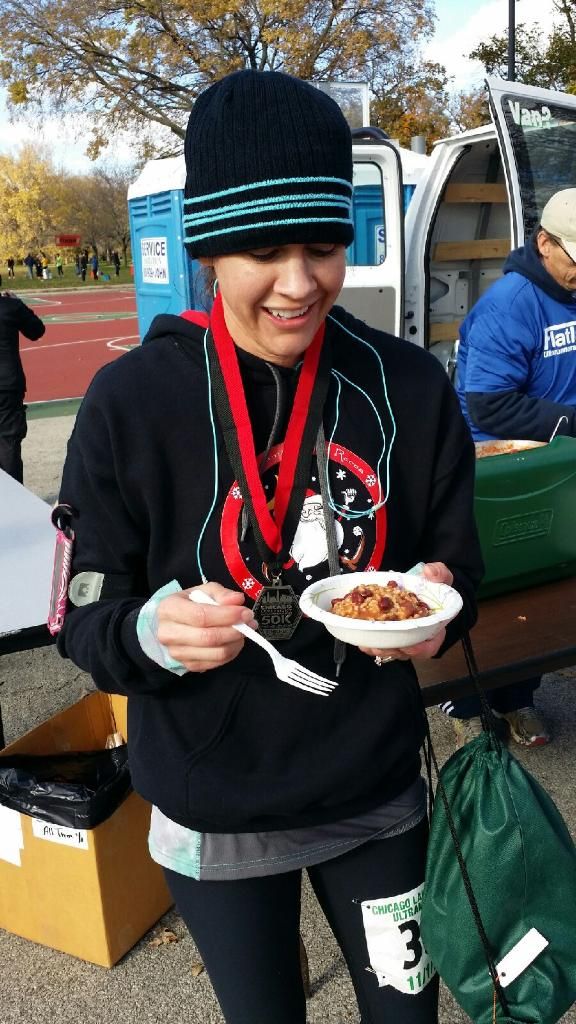 One final thought. I was asked after the race if I was done doing ultras. That was my second one in 4 months. I had to think about it for awhile, but definitely not. I love the challenge and I love pushing myself to the limit. Saturday, might not have been my day, but that wont stop me from doing what I love. I have no doubt next year I will be attempting the 50 miler. But, for now, I am recovering until 2015.

What is the hardest race you have ever run? This was mine!