Wow! Where has the time gone? I can't believe we are halfway through April. I love how the grass is turning green and the birds are chirping. Spring is a wonderful time here in the Midwest and after the winter we had, we are all starting to believe we can finally put away the winter coats.
There has been a lot going on over on my end and I apologize I haven't been on here very much. Between running races, training, coaching, organizing running events and my latest obsession, I have let this slip a little. OK, I let it slip a lot. I know most of you follow me on Instagram and Facebook, so you already know what I have been up to, but if you haven't, I am totally loving on my bike.
Since the beginning of the year, I've made it my goal to learn to ride a road bike, complete a triathlon and start doing group rides. All that I just mentioned are first time, scary things for me.  And my journey through this hasn't been totally easy. The good news is I am slowly working through these fears and starting to enjoy myself.
Yesterday, I went on my first group ride. Sweet Baby Jesus, I have never been so scared in my life. I spent a majority of yesterday completely paralyzed with fear. All I could do was google "How to land if you fall off your bike." I can't explain the terror I felt as I drove over to Spokes.
I actually got there early, so I could stake out the other riders. Which didn't really help at all, they all looked pretty serious.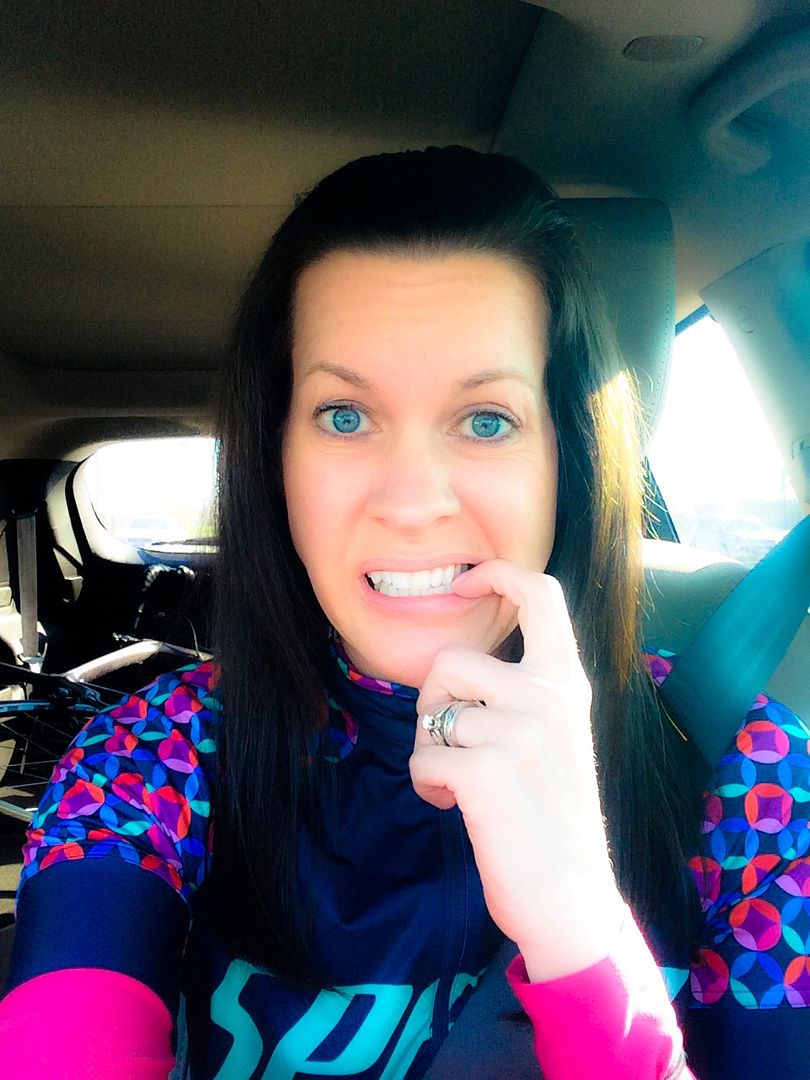 I can admit this here, but I almost drove away. All I could think to do was get out of the car and walk into the bike shop before I left. Of course, I parked my car far away, so I had to try and walk normal while wearing padded shorts and very stiff biking shoes. Seriously, how do you walk in those shoes?
The good news was the guy who was leading the ride was expecting me. His name is John and he knows I am brand new to riding. Before the ride started, he took me out to ride a few loops in the parking lot. He explained a few basics on cadence and shifting and clipping in and out and then it was time to ride.
I wish I could say it was really easy and I loved every second, but that wasn't the case. I was too scared and tense to really enjoy myself in the beginning. The beginning was definitely the scariest as we moved out onto a major road during rush hour. All I kept thinking was I was going to die in Wheaton…on a bike….wearing padded shorts!
John stuck with me the whole time and would explain everything to me as we rode. I learned about drafting, signaling, shifting up hills and shifting down as we came to a stop. I learned that the hard way every time I would try to start up again and could barely move my legs.
We finally hit the half way point at Fermilab and stopped to hydrate and take fuel. I felt myself start to relax. I realized everything I was afraid of, probably wasn't going to happen. I had yet to fall, I was able to unclip at every stop and if I couldn't get clipped back in right away, I could fake it until my foot found where to go. I was actually having a little fun.


On the way back, John helped me find some speed and raced me for a minute. Well, it was more like 20 seconds until he blew past me, but it made me laugh and enjoy myself. He also showed me how to get out of the saddle and peddle. Which came in very handy when certain areas needed a break. Ouch!
Overall, it was a great experience. If I didn't have John next to me explaining to me what to do, I probably would have turned around and gone back to my car. I am lucky to have a bike shop that is willing to take the time to show a new rider what to do.
If you are new to cycling, I encourage you to find a group ride. I wont lie, it's scary, but the people you meet and what you learn during the ride is amazing.
Thanks, Spokes and John for the great ride. Looking forward to next week.