Happy Monday! I hope your week is off to a great start. Yesterday, was my redo 20 mile run from a week ago.  It was a beautiful day for a long run. The path is now clear and the sun was shining. It was 20 degrees at start time and the wind was coming from the north at 16 mph.
I decided to switch my fueling and hydration up with a few new things I was given to try.

Nuun had sent me the new Nuun Energy to review. It is the same electrolyte enhanced tabs BUT caffeinated. Also, thanks to a great new sponsorship with Honey Stingers, I was able to get some of these great Fruit Smoothie gels. Made with organic tapioca syrup, organic honey and electrolytes. The review is coming soon on both, but I had consistent energy throughout the run.
I started the run at 8:30am with these two ladies.
Since the wind was coming from the north, we headed that direction. They wanted to do 10 miles, so the plan was an out and back. My pace was to at be at 9:54. This is obviously something I have been struggling with, slowing down my pace. But, with the wind hitting hard at times, I was definitely good with a 9:54 pace.
The 10 miles went well. Teri and Abby are both marathoners who are strong runners. When we got back to the car, my friend Amy was there to run the next 6 miles. Thank goodness, I have friends who are all training for spring races. This worked out perfectly for me! I refueled and off we went. The wind started to get to me a bit more this time around and every time I started to feel tired or worn out, Amy had something encouraging to say.
After our 6 miles (which were a bit faster), I fueled for the last time and Nikki and Carrie were there to run the last 4 miles with us. I was starting to feel the run a bit more at this point and their energy is just what I needed. I noticed this at the very beginning of my run, but didn't really get a chance to look at it well.
Nikki, had gone to the path early in the morning and chalked it up for us. I have the greatest friends! We ran the last 4 miles together. I was really over the wind at this point, but there was no way I was stopping until I hit 20 miles.
This 20 miler took longer then any I have done in the past, but by far the best one. My fueling and hydration were right on and I felt strong the whole time. The best past was having friends with me to do it. I am really blessed with incredible friends.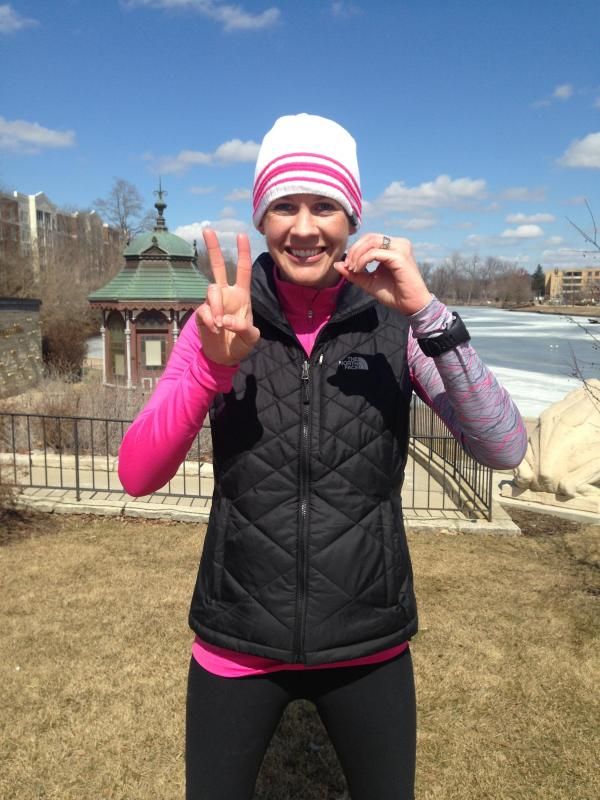 My goals for the Rite Aid Cleveland Marathon are coming together!
Have a great Monday everyone! Don't forget to enter the Michelob Ultra 13.1 Marathon Series giveaway HERE.
What did you do this weekend? Share!